What People Say
A Facebook post on our business page:
"Excellent Work! I was enthralled by the deft use of [the] mill and what it could do. Brian's skill was superb and his guidance was greatly appreciated. He came 100+ miles when local sawyers wouldn't go five. His integrity is high and his work ethic is phenomenal. I can give no higher marks to a person or his work."
–Keith Morgavi
---
"…I would like to thank you for the quality of work that you have done for me. From the start to finish you and your wife have been pleasures to deal with. I enjoyed our conversation and not to mention your extremely low price!"
–Sasan Shahbazi
---
I received a call from a potential customer. He had been calling around, asking about sawyers and their prices and recommendations. Here's a little how our conversation went:
Me (Brian): "Well, how do I compare to other sawyers? I'd like to know your findings. Are my prices comparable? Are they portable? What's their mill's capacity? Are they as handsome as I am?"
Potential customer: "Well, of the three different people I spoke with, you were the only sawyer they mentioned and fervently referred."
Well THAT brought a smile to my face! A HUGE thank you to Mary Meeker, Scott Pederson, and Richard Kester for being those customers.
---
"Your fine milling can be seen in that fine post and beam. Three posts and three beams support the covering on our back deck. Thanks again for your fine work."
–John Morrow
---
"After the first job we invited Sticks back for a second job. We will invite Sticks back again if the opportunity presents itself."
–Lloyd & Sharon, Brush Prairie
---
"Your motto on your home page is very true; after you cut boards for me last time I was almost feeling guilty about the price you charged me considering all that is involved in the milling. I have recommended your services to several in the past couple of years."
–Tony Bequette II
---
"Brian, thanks again for everything and we'll see you at the housewarming."
–F.J. Maloney
---
A Facebook comment on one of our pictures when our new website was launched:
"Seeing as how we've witnessed firsthand your incredible cutting skills, we fully believe in [you]…"
–Kat Lilore
---
"I've had Brian out for two milling jobs on my property and was deeply impressed by his knowledge, work ethic and honesty. He saved me some serious money by maximizing each log for the best possible cut. Not only was it very affordable, it was also deeply satisfying to see my fallen trees get a second life as lumber I used to build a hay barn, tool shed, and writing shack."
–Peter Illyn, La Center
---
"Thanks again it came out beautiful and it was great working with the both of you."
–Seanette Corkill
---
"I highly recommend Brian. Having known [him] closely since our time together in college, I can tell you that he is a person that I would trust with my business."
–Walter Gosciewski
---
A Facebook review:
"★★★★★! I'm sure there are other guys out there with mills, but who needs them [when] you have Brian at the slicer?"
–Chris Moore
---
A handwritten letter:
"Brian,
Thank you so much for all your hard work getting us the lumber. You were a great find! Rob spoke highly of you and I found out exactly why. We loved the whole process of getting the wood. The boys experienced a new type of work and all three thoroughly enjoyed them[selves] working along side of you. I made a friend. Looks like we already have a customer for a slab. I'll let you know and I'll certainly pass your name to others as they inquire about where I got my wood…Take care and drop in at any time…"
–Barry Young
---
A Facebook image and comment in response to Sticks Milling's post about working in the Washington rain:
"It truly was the worst day of the year but it was an amazing experience. Brian is a true professional and really over-delivered. He really is helping my dream project turn into reality [and] I will absolutely be a repeat customer!"
–Kendall Shapiro
---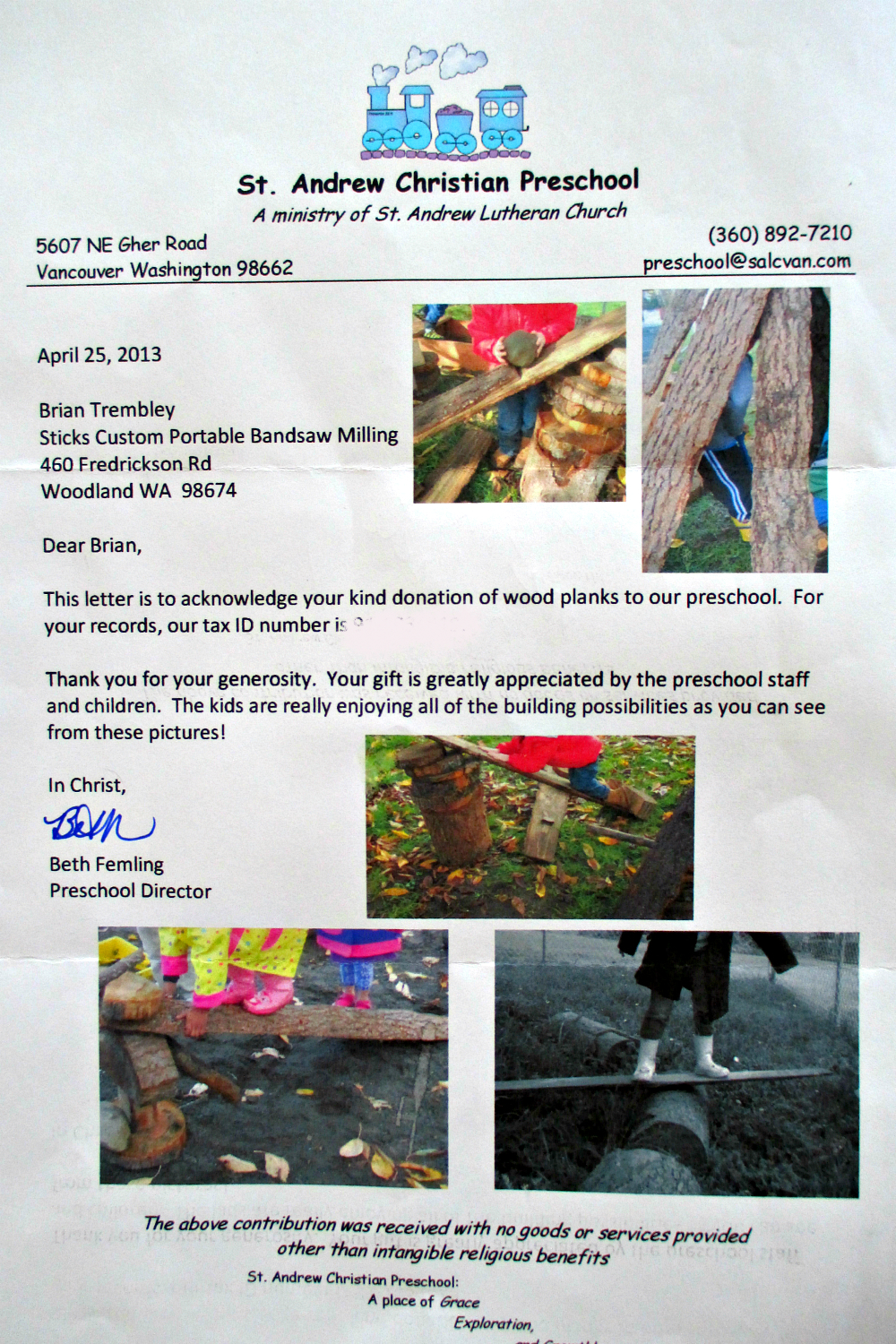 ---
If you have any comments or compliments you would like to send to us, we would happily post them on this page!